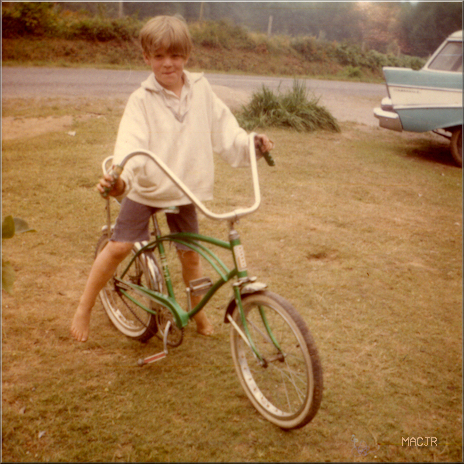 Me, Michael A. Crane, Jr., during a weekend at Grandma's house
Location: Snohomish County, Washington, about 1971
Photographer: Dorothy "June" Crane
This website is dedicated to family and friends
This website is being renovated!
The photography pages will be moved to another web site, and this site will become focused entirely on genealogy.
Expect chaos, broken links, and things oddly out of kilter until this remodeling project is finished. Thank you for your patience.
For those interested, sorry about the long pause. I started work on redesigning these pages last year, but then health issues stepped in and stopped work for the last several months. I seem to be doing better now, so here I am again. I just finished a few minor tweaks to this page today, but the real work is just getting re-started.
Friendly questions and comments welcome.
Michael A. Crane, Jr.
Please Note:
These web pages are best viewed with 32 bit color depth and a screen resolution of 1024x768 or higher.
Older web browsers will not display these pages properly. For Windows or Linux computers, I currently recommend Firefox as the best web browser for viewing my web sites. I have not yet tested my sites with a Macintosh computer (I need a Mac for that).
Internet Explorer is getting better (about time!). However, all version of Internet Explorer older than version 10 will not display these pages properly.
Google Chrome is now third best, in my opinion, because it is a touch sluggish with my pages and it does not display large fonts as smoothly as most other web browsers do.
Safari (the PC version) is very sluggish with some of my pages, but it does display my pages correctly, or close enough anyway.
Opera has been demoted to last place on my list. The latest versions of Opera are very sluggish with my pages, but at least they do display, more or less, correctly.
Additional Note: Of the web browsers that I have tested on my iPhone, Safari and Google Chrome both work very well with my web sites. I like them both about the same (now that Chrome has fixed a touch command problem). Unfortunately, as of the time I am writing this, Opera lacks the ability to view some page style elements properly. However, Opera, for the iPhone, is fast and does handle touch commands well.
I have not yet tested Android web browsers to see how well they handle my web sites.
My Genealogy Pages
MACJR'S Family Tree Forum
My Other Web Sites
macjr.com - my pixel art
supernovadust.com - my photography
About W3C CSS validation
My fancy style sheet, that looks sharp in newer web browsers, does not pass the W3C CSS validation test because of some newer, experimental, style elements that I use in the design of this website. This should not be a problem for anyone using a modern web browser.
There is an alternate style sheet available for people who are using an older web browsers that cannot display this website properly. Look for the style sheet options in your browser's toolbar, or menu bar, either in "Styles" or "View" and then "Styles," depending on your web browser. Choose "A style sheet for older web browsers."
The alternate style sheet does pass the W3C CSS level 3 validation test.
MACJR
MACJR'S Genealogy Site
© 2004-2013 by Michael A. Crane, Jr. - All Rights Reserved.
This site has been online since February 02, 2004. Site last updated: January 01, 2013